During February, the month of love, we thought we would share some of the reasons why Acorn's customers love us!
Here are some of the "love letters" that Acorn has received that explain all the special qualities, from outstanding customer service to efficient installation, that our customers heart about us.
Some of the Raving Reviews from Acorn Stairlifts
"From the beginning on the phone to the sales rep & installer, all were courteous, professional, friendly & empathetic to needs of client, especially elderly"
Thomas Albert - PA
"Acorn had best presentation and best design idea for our curved staircase. 2 other companies we got bids were using unfamiliar subcontractors. A local Med equipment company discouraged us from even thinking about it because stairlifts were unreliable and they had quit installing them. The primary reason we went with Acorn was dealing directly with the Mfg and Acorn Employees. No Subcontractors. So far, the thing is working well!"
Rueben Carothers - TX
"It's great. It allows me to access our cellar which is finished. We have an office, schwinn bicycle, treadmill, TV, pool table, Universal exercise set up, washer/dryer layout table and a large workshop. So you can see how valuable this charilift is for us."
Ray Norton - MA
"Everything went as clock work. Everyone I talked to was helpful. The experience & the stairlift were better than I expected"
Harvey Wohlers - MN
"Searched the internet to find a chairlift company. I heard from Acorn within minutes of my contact online. Within the week a sales person came to my home. He was very knowledgeable and helpful in making the decision to purchase a Acorn Stairlift. The stairlift was installed by a very professional, friendly, polite engineers. They were amazing."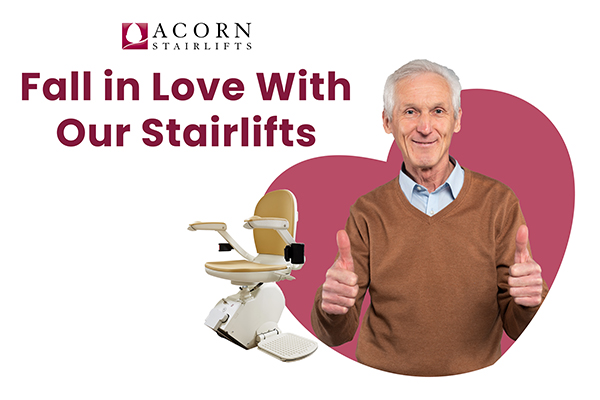 John Peregord - NC
"So far the Acorn Stairlift has been a positive experience. We needed it sooner but will definitely be used on a daily basis. Our grandson thinks it's amazing."
Richard Miller - OH
"Acorn responded quickly to my request to give us a price quote. They answered all questions. Our chairlift was installed in less than a week. I would recommend Acorn to others."
Gay Nissen - MO
"I think I made the best decision, so I don't fall & have a way of getting up & down carrying groceries and laundry. I sure don't plan being in nursing home care. Thank you Thank you my stairlift is great."
Lillian Beckett - IL
"The best coordinated effort from Acorn advisors to the top installer ever Miguel. There are no complaints here only praises for all the Acorn staff."
Lenore C.
"Ease of operation. A feeling of more independence."
Paula D.
Contact Acorn Stairlifts to Get a Free, No-Obligation Quote of Your Stairlift Price
Now that you've heard real-life examples of how Acorn Stairlifts continues to lift peoples' lives every day, you can make the life-changing decision to trust the testimonials and become one of Acorn's countless happy customers.
Click here to get your free, no-obligation quote and home survey.
To read more reviews from Acorn Stairlifts customers, you can visit TrustPilot.