America is a country that continues to stand on the principles of democracy, equality, liberty, and justice for all, thanks to the defenders of our land—the brave soldiers who sacrificed their lives for our freedom.
This Memorial Day weekend, take the time to appreciate the men and women who served in the U.S military, read more about how the holiday came to be, and learn about how Acorn Stairlifts' service helps protect your freedom and independence.
When is Memorial Day?
Memorial Day is observed every year on the last Monday of May. This year, Memorial Day 2022 falls on Monday, May 30.
Memorial Day Meaning and History
The Memorial Day holiday is observed every year in honor of all of the brave men and women who have died during their service in the U.S military. However, the holiday was originally known as Decoration Day, initially intended to honor all of the soldiers who died during the Civil War.
Decoration Day was widely observed for the first time on May 30, 1868, by proclamation of General John A. Logan of the Grand Army of the Republic, an organization comprised of former Union soldiers and sailors. It was known as Decoration Day due to the common practice of people honoring fallen soldiers by decorating their graves with flowers, wreaths, and flags.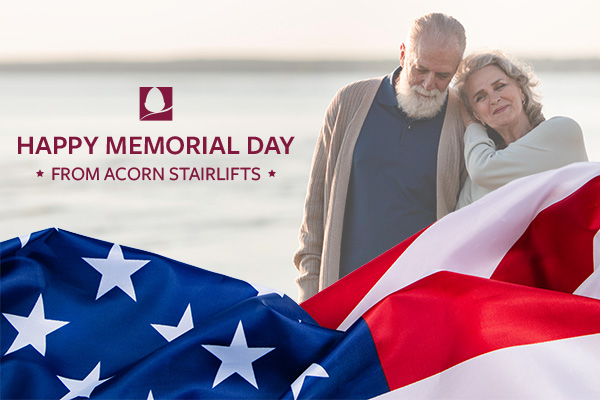 Decoration Day was designated as a legal holiday for the first time in New York in 1873, with several states following suit and declaring it a legal holiday as well by the late 1800s. Since then, the holiday has evolved into what is now known as Memorial Day, honoring not just the fallen soldiers of the Civil War, but all of the fallen soldiers that have served our country. However, it wasn't until 1971 that Congress passed the Uniform Monday Holiday Act and declared that Memorial Day was to be observed on the last Monday of May.
Over the years, Memorial Day has also morphed into a weekend that unofficially marks the beginning of summer. Many friends and families choose to celebrate Memorial Day by hosting cookouts or going on trips over the long weekend.
How Acorn Serves You with Our Variety of High-Quality Stairlifts
Acorn Stairlifts believes that everyone is entitled to the right of mobility, independence, and freedom to move at will throughout their beloved homes. This Memorial Day, Acorn wants to remind you how we can help you exercise your rights of freedom and independence that our U.S soldiers have so valiantly fought for with the help of our chairlifts.
Acorn stairlifts are one of the safest, most dependable products of all of the stairlift companies, equipped with the most up-to-date safety features and 24/7, 365-day-a-year stairlift customer service. Acorn's stairlift selection includes models for staircases indoors and outdoors, straight and curvy, long and short so that all members of your family can join in the Memorial Day barbeque.
Contact Acorn Stairlifts to Get Your Free Quote
To start reclaiming your independence and mobility or help your loved ones live their lives to the fullest, look for an Acorn Stairlifts near you and contact us today. Acorn offers each person even considering investing in a life-changing lift a free, no-obligation quote and home survey in which an Acorn representative will provide you with personal stairlift advice and your stairlift price.
Choose to give you and your loved ones the best by lifting your life with an Acorn stairlift.
Happy Memorial Day!