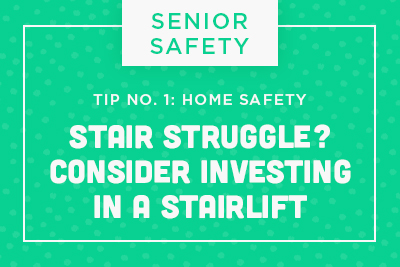 As we age, the potential of falling increases and being aware of potential dangers in and out of the home means you can better prepare for any emergencies. June is National Safety Month and for the entire month of June we will be sharing tips on how to keep you and your loved ones safe in and outside of the home. Today's tip involves the safety of you and your stairs.
Tip No. 1: If you feel uncomfortable going up or down your stairs, consider investing in a stairlift. Climbing the stairs can be a dangerous task not only to the person trying to manage the stairs but also for anyone who is trying to help them. An Acorn Stairlift is designed to make your life easier, to help you stay in the home you love, without the worry of moving and leaving behind all of those memories.
All of our Acorn Stairlifts are equipped with multiple safety sensors, allowing for maximum safety while riding up and down the stairs. Our stairlifts install to the stairs, not the wall, eliminating any disruptive work or renovation. Each of our stairlifts are independently tested and certified to company with the latest stairlift standards, and is the only stairlift company in the world to have earned the Ease of Use Commendation from the Arthritis Foundation.
Each Acorn Stairlift comes with 2 remotes, 2 keys, a welcome pack and user manual. Acorn-trained installers will sit with you after installation and thoroughly demonstrate how to use the stairlift and won't leave until you are comfortable using your stairlift.
If you experience tiredness, breathlessness or pain when using the stairs, call 1-866-873-6574 today to find out more information on how a stairlift can improve your quality of life!
Source: https://startofcare.com/100-senior-safety-tips/